Laparoscopic Colon Surgery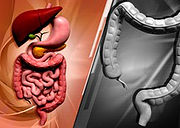 Removal of colon is indicated in various conditions like:
Cancer of large intestine
Diverticulitis
Tuberculosis etc.
Laparoscopy has many advantages over open surgeries:
Smaller cuts / incisions
Lesser pain
Earlier recovery
Earlier discharge from hospital
Earlier return to work
Lesser post-operative adhesions
Lesser wound complications like infections, hernia etc.
Many more ……
---
LAPAROSCOPIC RECTOPEXY
Rectal Prolapse can be treated successfully with laparoscopic rectopexy by
mobilizing and fixing rectum with the sacrum.
Advantages:
Small incision.
Less painful.
Quiker recovery.
Early return to work.
---