LAPAROSCOPIC FUNDOPLICATION (ACIDITY SURGERY)
This surgery is done for patients suffering from hiatus hernia and / or
severe Gastro-Esophagial Reflux Disease (GERD).
The indications are: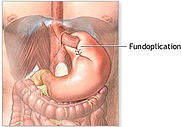 Dependence upon PPIs (Acidity lower drugs like Omeprazole) for relief of symptoms.
Food pipe complications, such as erosive esophagitis (redness), stricture, Barrett's esophagitis etc.
Respiratory complications like recurrent pneumonia, bronchiectasis etc.
Most cases of Type 2 Hiatus Hernia will need surgery.
Watch Video from our centre to understand surgery better…
---
LAPAROSCOPIC CARDIOMYOTOMY FOR ACHALASIA CARDIA
Achalasia is a primary esophageal motility disorder of unknown origin, characterized by lack of esophageal peristalsis and failure of the lower esophageal sphincter to relax
appropriately.
Now laparoscopic treatment is considered the treatment of choice over endoscopic dialatation. It gives long lasting results with minimum recurrance.
Advantages of Surgical treatment over Endoscopic dialatation:
Good relief from symptoms from a single sitting laparoscopic surgery.
Low risk of complications.
Good long term results.
Watch Video from our centre to understand surgery better…
Disclaimer : – Results may vary from person to person
---